TRANQUILITY | PEACE | BALANCE
Gently awaken to the calls of tropical birds in our 22 peaceful ROOMS, each with its own terrace and hammocks to take in the exquisite jungle views. Fully powered (including numerous power outlets), ceiling fan and 24-hour hot water ensure the most comfortable of stays.
Check In: 1:00 PM | Check Out: 11:00 AM
MIKUNA RESTAURANT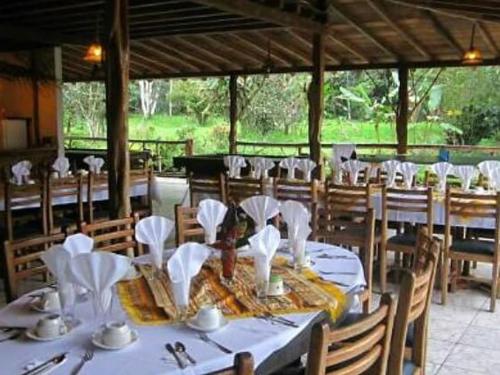 At Mikuna Restaurant you will find an exquisite menu with the perfect combination of fresh produce. The restaurant is loaded with popular international and Ecuadorian dishes as well as soups, salads and desserts in our colourful and varied breakfast, lunch and dinner menus. We offer healthy and high quality foods in order to recover your energy and be able to continue to explore.

Vegetarian and allergy-free options are available in our open-fronted restaurants with views over the pool and lagoon.
GUAYUSA BAR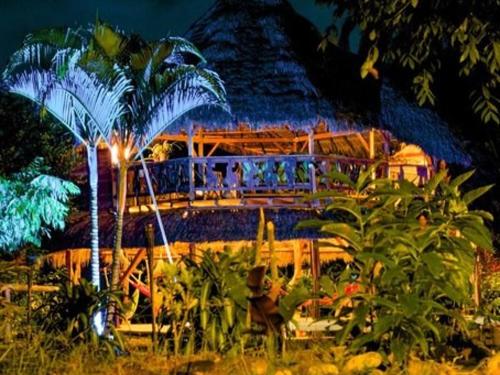 The open design of the SuchiBar and lounge creates an inviting panoramic view overlooking to the Rainforest and Lagoon.

Delight yourself with the exotic combination of smoothies and natural Fresh juices, local produce and fruits that are part of our ongoing commitment to support local communities, during the day. Because when the night falls..... SuchiPakari beverages change to ice-cold craft beer, crisp white wine or fluffy piña colada at our well-stocked bar, manned by expert mixologists, sitting back in the homey lounge or lagoon-view seating. Please note that drinks are not included in your package and may be paid on the last night of your stay in cash (U.S. dollars) or credit card (Visa, MasterCard or American Express).
THE REST AREAS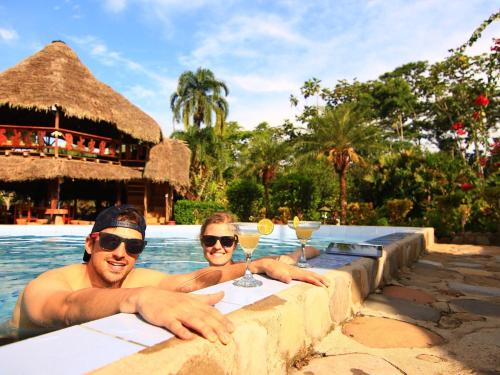 Because adventure needs a break, SuchiPakari has chairs and hammocks where you can take your time to rest and enjoy the delicious refreshing beverages. Relax, recharge and keep enjoying the Suchi Experience.

Self Service Station: enjoy them as much as you want, we offer complimentary coffee, hot chocolate and Guayusa tea (hot traditional Jungle drink)
ARRIVAL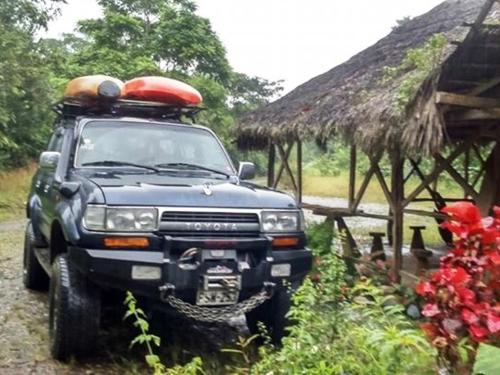 We will be happy to arrange transfers, either with a guide or with just a driver, or explain to you how to get here by public transport.

Contact our Staff in the City of Quito.
COMMUNICATIONS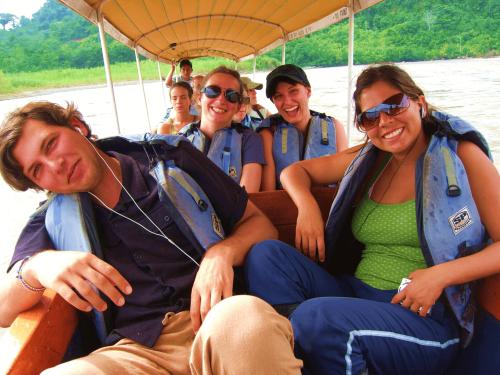 In case of emergency, both cellular telephone and radio communications are available from Suchipakari Lodge. In addition, each of our guides maintains permanent radio contact with The Lodge during all excursions and activities.
SANDY RIVER BEACH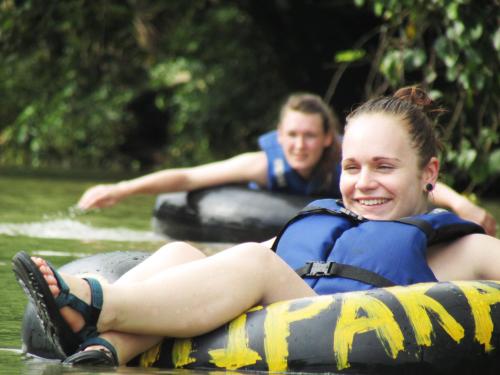 THE WORD "TROPICAL" DOESN'T ONLY APPLY TO CARIBBEAN BEACHES
Discover what it means here in the Amazon when you take a dip in our private sandy river beach after your day's adventure, watching the setting sun turn the sky all shades of pink over the river and lush forests, while swapping stories with friends and family.
BOOTS, LIFE JACKETS AND PONCHOS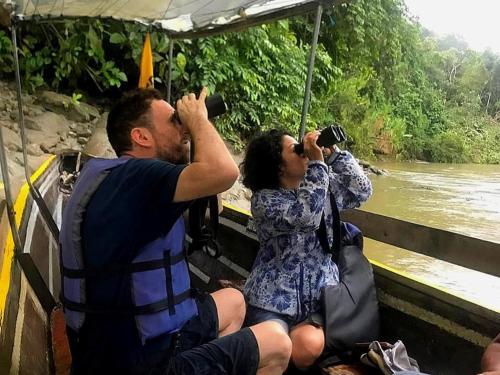 Rubber boots are available for all of our guests at Suchipakari Lodge, free of charge. Boots are thoroughly cleaned and disinfected in between uses.
WATER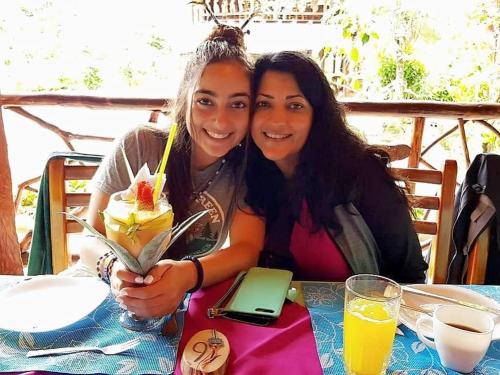 Purified, safe drinking water is available at the bar and at other points before excursions begin – there's no need to bring your own bottled water.
ELECTRICITY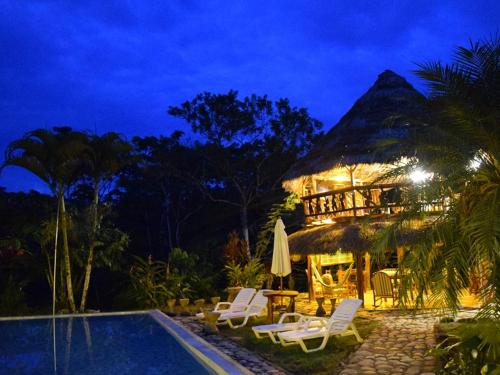 24-hour electricity is provided Throughout The SuchiPakari Lodge,
LAUNDRY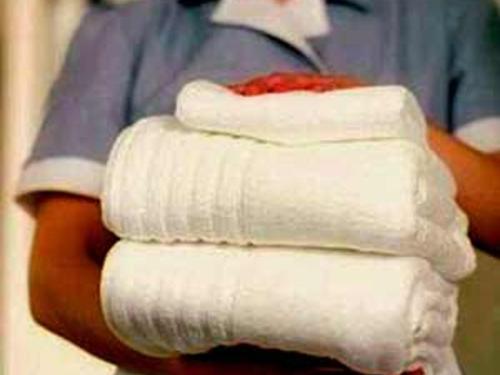 The SuchiPakari Lodge offers Laundry Service (washing and drying) for our guests. Please consult costs with our lodge administrator.
SAFETY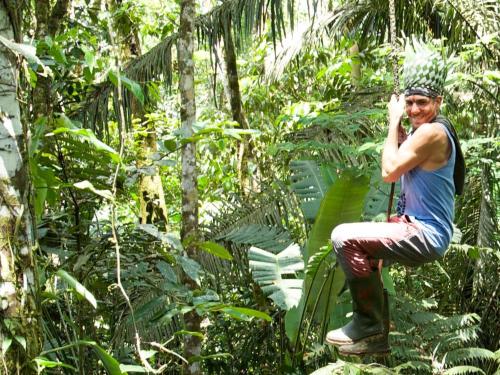 At SuchiPakari, safety is our top priority, this is why all personnel are highly qualified to attend emergencies, and the Park has a First Aid Unit to handle any unforeseen circumstances.
SPA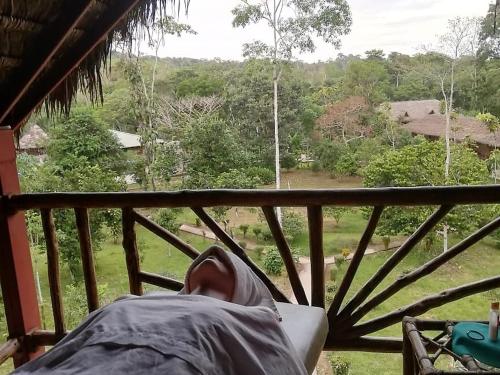 Surrounded by vibrant vegetation, exotic birds, and a warm ambiance, relaxation here is a mental and physical reward we believe all should experience. SuchiPakari Amazon Eco-Lodge & Spa invites you to make this a reality. The Complete Massage is a full-body massage with scented oils and lotions that will leave you feeling rejuvenated and ready for your next adventure.
Extra charges apply. Please book in advance to guarantee your massage appointment.