5 Days 4 NIGHTS | The Secret Called Jungle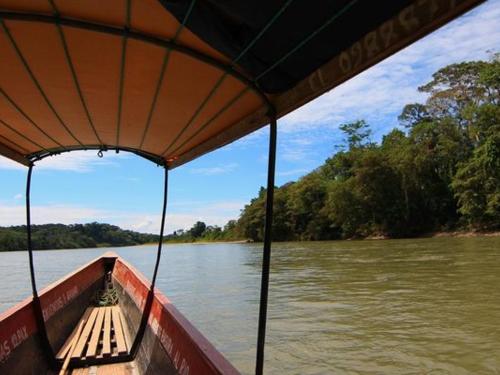 ALL INCLUSIVE PROGRAM 5 DAYS 4 NIGHTS
PRICE PER ADULT: $440 USD | CHILD: $220 USD
DAY 1: Transfer From Tena City to Suchipakari | Welcome Lunch | Jungle Walk | River Tubbing | Dinner | Lodging
DAY 2: Waterfall Excursion | Monkey´s Beach | Visit Kicwa Family
DAY 3: Amazoonico Rescue Animal Center & Culture
DAY 4: Whitewater Rafting
DAY 5: Chocolate Route | Tranfer Suchipakari to Tena City
DAY 1: Intro To The Rainforest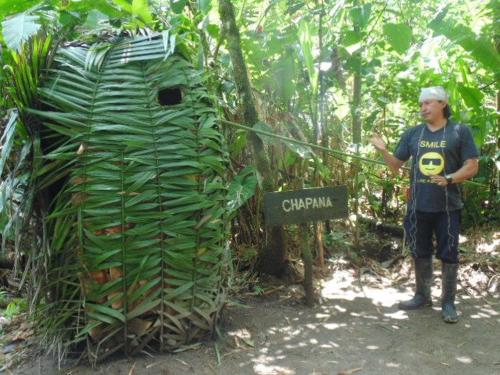 Our Reserve, is 10 minutes walking from the parking place, next to Pusuno Bajo River, what will be the beginning of an unforgettable experience in the Tropical Rainforest. The only thing you must take care of during this part of the trip is your carry-on and camera equipment, all other luggage will be transported by Suchipakari Staff. The manager will be waiting to greet you with a refreshing ice tea.
1:00 - 2:00 pm Lunch and a short briefing with general information about your stay at Suchipakari
The Amazon Rainforest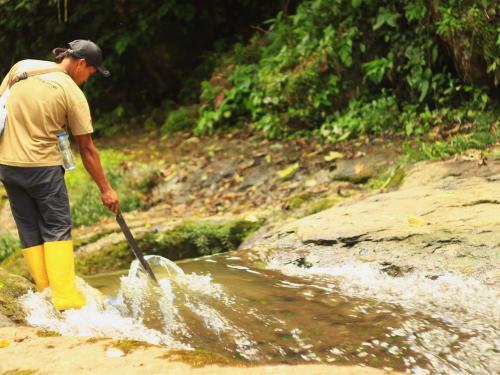 We program different walks
for both inside forest exploration or lounging riverbanks and lakes, on longer, shorter, harder or easier trails, depending on interest or difficulty level, together with guides that enlighten us with their knowledge on life in the forest.
A lot goes on on the ground in the rainforest, the easiest realm to actually explore, is so teeming in life not even the most expert scientists could wish to identify it all. Some creatures are perfectly camouflaged, like walking sticks, sphinx moths, dried-leaf katydids, and glass frogs, others are quite the opposite, bright and perky like rainbow katydids, orchid bees, Morpho butterflies or poison-arrow frogs… antbirds closely following army ants, leafcutter ants creating enormous highways from one point of the forest to another, sculptural buttress roots towering above the tallest humans, the most unbelievable colors and shapes of fungi growing on fallen tree trunks… We walk and hike the rainforests under towering trees through untouched forest to observe the giant kapok tree (Ceiba Pentandra) and the Strangler Fig Tree (Ficus sp), the light trickling down in layers, smelling the aromas of a million different and medicinal plants used by locals for centuries, feeling the presence of innumerable creatures filling every corner of the forest. Don't forget to bring a swimsuit and take a refreshing dip when you reach Suchipakari river Beach!
In the afternoon: time for relax in our hammocks on the private sandy beach and return to the ecolodge floating in buoys or kayak on the pusuno river.
Welcome Dinner will be served at this time. Find your seat and get comfortable while our waiters serve you each course
One of the Guides will give you a Welcome Jungle Cocktel and and a short briefing with general information about your stay at Suchipakari, how operates, activities available and services. The idea is to begin your activities with background knowledge of the amazing place you have just arrived to.
At the bar you can find snacks, tea, good coffee and order cocktails from the bartender. Or, feel free on the hammocks next to the swimming pool.
DAY 2: Waterfall Trail | Monkey's Beach | Visit Community
You'll awake to birdsong and the soothing sound of the river. Head over to the main lodge for a hearty breakfast of homemade bread, tropical fruits, yogurt, eggs, pancakes, cheese , homemade granola, juice, coffee and tea complemented by a rainforest view.
Our native naturalist guides
, can provide information about the plants, rivers, communities and animals that inhabit the surrounding forest. This day is open for enjoying one or more of the lodge's optional tours Nature lovers may want to start before breakfast with a daybreak birdwatching tour.
Guided hikes
will lead you across muddy swamps on log bridges, through the dense jungle of natural treefall gaps, and beneath the understory shade of pristine, primary rainforest. Along the way you will learn about medicinal plants, taste edible fruits and insects and discover how to weave traditional palm-fiber bagsHikers have several options to choose from: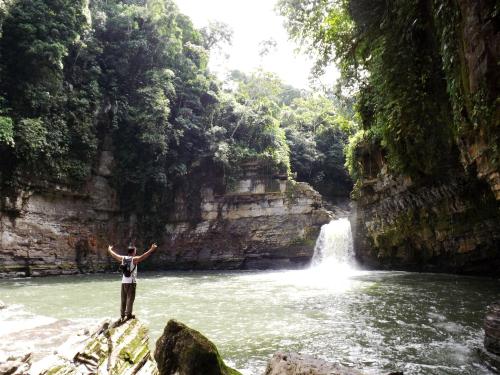 The Rayucocha Waterfall
which combines a demanding hike on ancient trail and hidden waterfall hike, which heads, higher into the mountains to a waterfall, taking most of the day.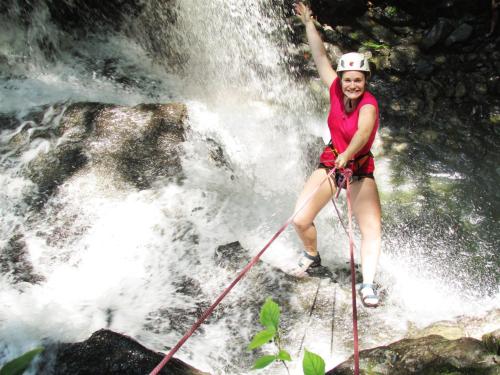 Umbuni Waterfall
with rainforest hike, wich combines cultural visit to Quichua community and monkeys beach or if you prefer the water, you can go
by motorized canoe to visit an isolated indigenous family home
deep in the forest.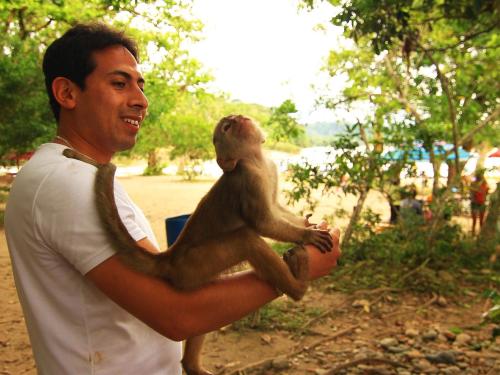 Visitors claim it is in the Misahualli they imagined with monkeys playing in the forest next to the beach, perfect for witnessing an Amazonian river sunset. Visit Indigenous Community where a group of Kichwa women will speak of their customs, cuisine and everyday life. They have created the center in order to showcase their culture, and it is a unique opportunity to learn about Amazonian lifestyles along the Napo River. You will also have the opportunity to buy crafts, local products and souvenirs.
Special Dinner "Maito de Tilapia with Guayusa Ice Tea"
Night Walking With the help of a flashlight your guides will take you around the lagoon looking for nighttime wildlife. This is also a great opportunity for star gazing!
DAY 3: Visit Animal Refuge by canoe on Napo River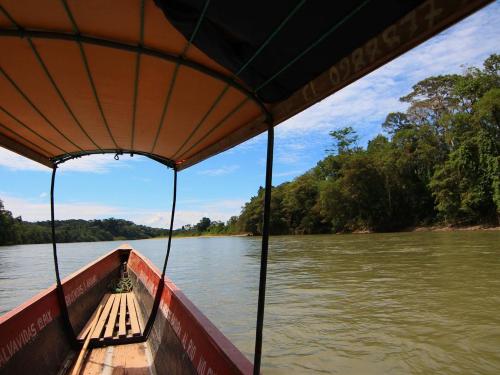 After the Breakfast, a short 20 minutes walking to the port in the Napo River will take you onto a comfortable covered motor boat.
Here we start a boat ride along the Napo River for approximately 1 1/2 hours. Some aquatic birds can be spotted on the way.
Behind the shores of one the beaches along the River Arajuno is the famous animal refuge known as AmaZoonico. This refuge was founded for the purpose of protecting and taking care of the native and wild animals of the area that have either been injured, mistreated or been confiscated and handed over because they were being smuggled. This is a great opportunity to observe how it is exactly that these creatures live in their natural habitat, something which is rather hard to do given how elusive these creatures are in the wild. Once this visit is over, you'll return to Suchipakari aboard a canoe.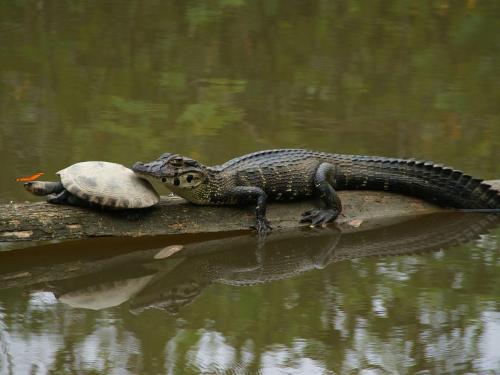 Caiman Watching!, Hiking, Night Trails and More Activites
DAY 4: Full Day Whitewater Rafting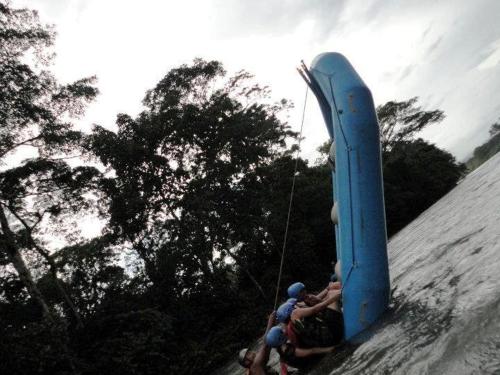 After Breakfast, transfer by car. This trip WHITEWATER RAFTING begins in Talag, Napo. Where our expert guide after fitting all of your equipment, we will give you a safety orientation and paddle practice before the adventure begins. Once on the river, participants will paddle for 4 1/2 hours along the 12-mile stretch with a stop for Lunch halfway down the river to restore your energy for the latter half of the paddle. At the end of the river section, your private transportation will be waiting for you and will take you to return to Suchipakari Amazon Eco-lodge.
* Additional rafting options include various sections of the Misahualli, Jondachi, Anzu and Hollín rivers. Difficulty is very much water level dependent but most are grade IV or V when they have sufficient water to paddle.
DAY 5: Chocolate Tour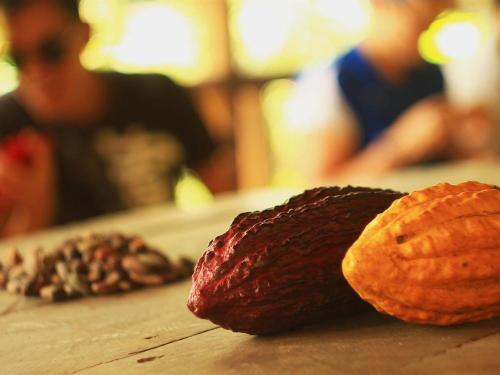 8:30 am After another great breakfast - you will learn how to harvest cacao and then learn how to create some of the world's highest quality chocolate in the world of our Kichwa Kitchen. (it is just too good!)
The world of chocoalte from the bean to the bar Chocolate tasting (from the start!)
Following your successful chocolate recipe, it is time to pack and check out of the Lodge.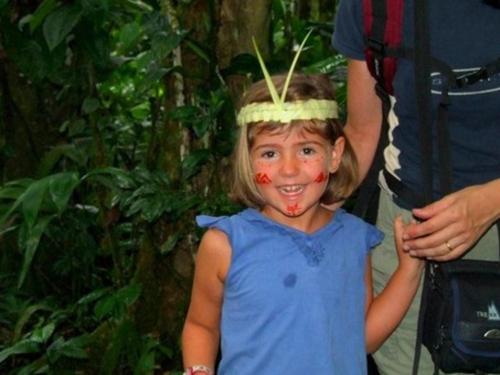 Departure for Tena In accordance to your briefing the night before, you will have a transport wait for you on parking place to go to Tena City. The lodge staff will assist you with your luggage
During your free time in between activities you can use our kayaks, swim in the river beach or swimming pool, have a massage or just relax in your room and have a nap!
Remember that all excursions and times on this sample itinerary are subject to change and largely depend on weather, season, group limitations, group interests, and guide decisions based on passenger safety and organized operations